Select Best Lighted Make Up Mirror For Living Streaming or Shooting
A lighted makeup mirror offers a super clear and well-lit reflection crucial for a flawless and fantastic makeup application. When you have the right makeup mirror, it will also become more convenient for you to complete your eye-straining tasks, for example, shaving your peach fuzz or shaping eyebrows. Besides, a lighted make-up mirror can add a beautiful and attractive element to your room. However, the market is full of different types of lighted make up mirrors, so which one will work best for you? To help you out in this, we have listed down a few options for you. Have a look.
Jerdon
Different testers have given this small and easy to carry lighted makeup mirror the highest score. This mirror has three different light configurations, and you can choose between yellow or white lighting. That's something exciting. Some users can go for the 8X magnification, and some can opt for 10x magnification. Speaking about this mirror's LED lighting system, the company claims that it would last for a lifetime.
Riki Skinny lighted mirror
Don't get worried after hearing the word skinny, as the skinny terms here in the lighted mirror refers t how thin the mirror is. There will not be a misguided feature to make you appear slimmer. Besides, the mirror has five stages of high-quality LED light dimming control and comes with customized HD lighting. What's more? It has a magnetic phone clip to enable the Bluetooth selfie feature and a magnetic magnifying mirror. Use it now and attain the perfect makeup to look beautiful.
Tri-fold lighted makeup mirror
This lighted mirror features a three-way fold structure that gives it a sleek look. With this, you will get an easy storage option and more viewing angles. Besides, the mirror can swivel at around 180-degree and also support 2x and 3x magnification function. The price is low, but it will look more expensive than its original cost.
Simplehuman sensor mirror trio
With a five-year extended warranty and unique high-tech capabilities, you will feel like this lighted mirror is something very unique. This mirror offers a 1x, 5x, and 10x magnification option to easily apply mascara. The lighting capacity of the mirror is unreal. By waving your finger along with the mirror rim, you can brighter or dimmer the light.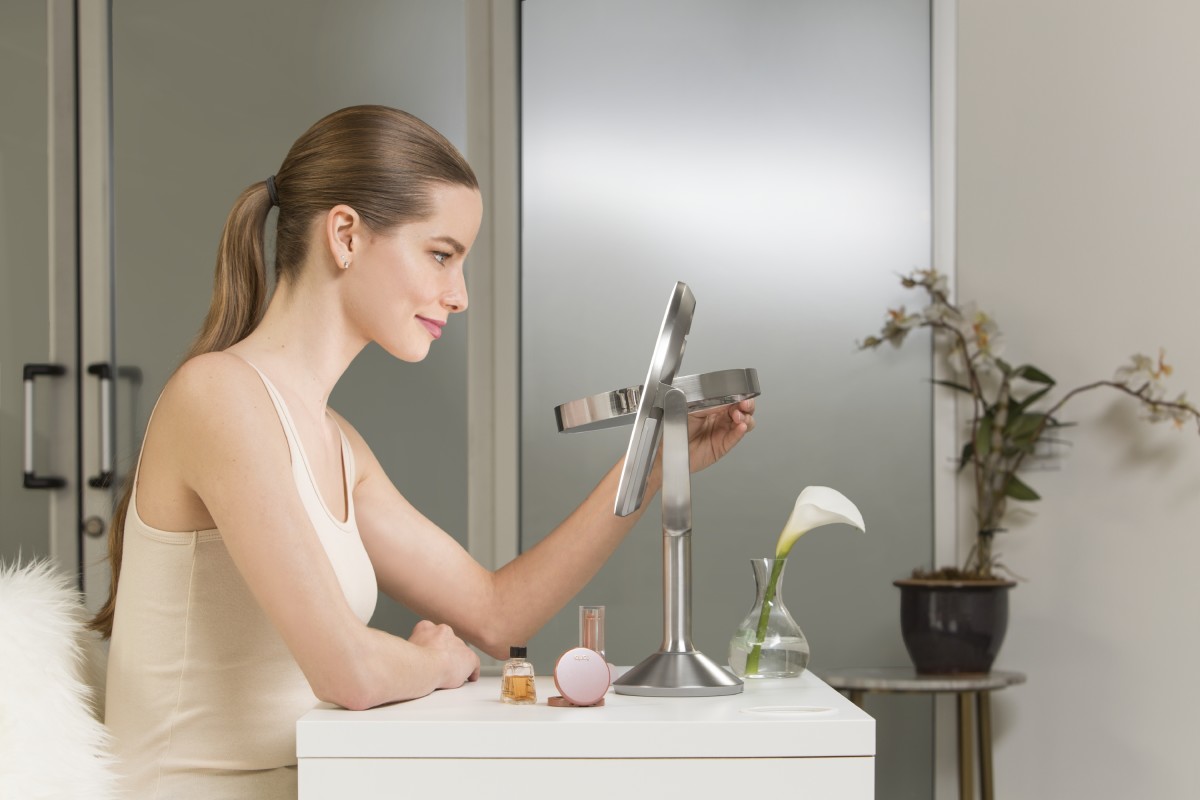 Hollywood style lighted mirror from ALBOR
If you are looking for a more statement price or a bigger mirror, go for this Hollywood style mirror now. There is a total of twelve LED light bulbs have surrounded the mirror. Besides, you can also adjust the brightness of the light for afternoon, morning, or evening. It supports 360-degree rotation.