The Secrets of Eco-Fashion with Cosmolle Performance-Driven Activewear
In the latest year, we have seen the world turning eco-friendlier and more sustainable. While it is not at all fashion's fault, fast fashion and some of the materials and processes used to manufacture clothes really take a huge toll on the environment.
And thankfully, there are brands like Cosmolle, that really worry about the environment and are themselves sustainable and eco-friendly brands. If you want to really unlock the secrets of eco-fashion, then you need to try the performance-driven activewear sets for women from Cosmolle.
Cosmolle's sustainability
Cosmolle has noticed that polyester produces emissions from the oils that are used in the manufacturing that are very harmful but also that cotton does consume a lot of energy and fresh water.
That's the reason why they use collage polyamide yarn. These are biomimetic fibers that have a unique coating of collagen that is also permanent. The yarn is then weaved and a buttery soft luxurious fabric is created.
They buy recycled fish scales from farming fisheries, and then their production begins when they weaved their collagen-infused yarn and then 3D-printed, this makes the process more energy efficient and provides also smoother lines.
Benefits of eco-friendly fashion
Using eco-friendly fashion, and especially activewear, that is performance-driven, like any of the high waisted workout leggings from Cosmolle has a lot of benefits. One of them is the fact that you will be saving money in the long run. When you buy slow-fashion garments, that have a higher quality will allow you to use your pieces more.
This type of sustainable clothing will have a focus on quality and not really on quantity. This is why these pieces are built to last because they are made with materials of higher quality. All of these means, that you will be discarding less clothing than you would do with fast fashion items.
There will be also a reduction in the carbon footprint. The fashion industry actually is responsible for 10% of the emissions of carbon in the world. Now, sustainable brands, like Cosmolle use materials that are natural and also use fewer resources to produce their products. It also requires a lot less water to be manufactured, it supports better and safer working conditions, and of course, it is not only the best for our planet but also for our health.
The best Cosmolle activewear
The first piece we want to share with you is their AirWear Sports Bra & Bike Shorts Set. This is the perfect set for summertime. Its performance fabric, made of recycled nylon, has a unique texture, is buttery soft, and is eco-comfy. It will keep you dry and comfortable as it is stretchy, breathable, and moisture-wicking.
This set is perfect to lounge on it, wear it on the move, at the yoga studio, or at the gym. The top supports the chest area and will enhance the shockproof effect, it also has a V-neck and a race-back fit. And the bottom, thanks to its sculpting performance fabric, will give you a built-in butt lift.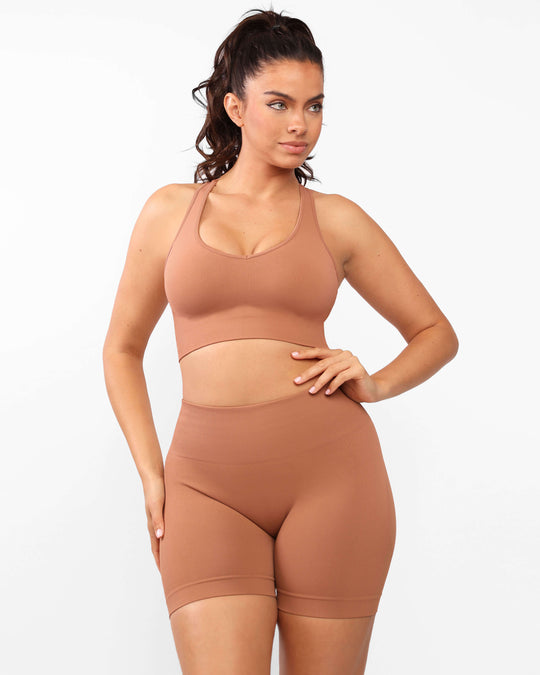 And the other piece we want to introduce you to is their Premium Seamless Bike Short Bodysuit. This lovely ribbed seamless bodysuit will allow you to move freely and be supported thanks to its 4-way stretch weightless and soft fabric and will hug you in the right places.
It has cross-back straps that are adjustable, doesn't have a front seam, and also has a built-in shelf bra removable cup. It also has a back scrunch seam that will enhance your butt curves and a contouring seam that will control the tummy area. It's perfect for low to mid-intensity workouts.