Beauty
beauty girl
street style
Trendy Style
Outfits Inspired From Kendall Jenner
The amazing outfits of the supermodel Kendall Jenner call us for an upgrade in our closet too. In this article, we will be presenting to you some amazing outfits straight from the closet of Kendall Jenner to help you recreate the same look.
1. Kendall Jenner's straight leg jeans & blazer over hoodie
Get this amazing look of Kendall Jenner where she wore a grey hoodie over which she added a navy, pinstripe blazer, & paired it with straight leg ash coloured jeans. Kendall wore the jeans from Yeezy but you can find similar straight leg jeans from Levi's. the hoodie is from Visitor on Earth while the blazer is from H&M. The shoes Kendall is wearing are Balenciaga kitten heel booties and affordable lookalikes like Mossimo tabby Booties or Steve Madden Ankle Boots are also available in the lesser range.
2. Kendall Jenner's Bomber Jacket with Ankle Pants
You can easily recreate this look of Kendall Jenner wearing the ankle pants as well as the bomber jacket and looking all classy. Create this look & go to the party you were looking up to. You can easily get the Merona Classic Fit Ankle Pant from Curvy & the Mossimo Supply Co. Bomber Jacket too. Pair it with your favorite top and a pair of black sandals.
3. Kendall Jenner's Yellow dress with classy sunglasses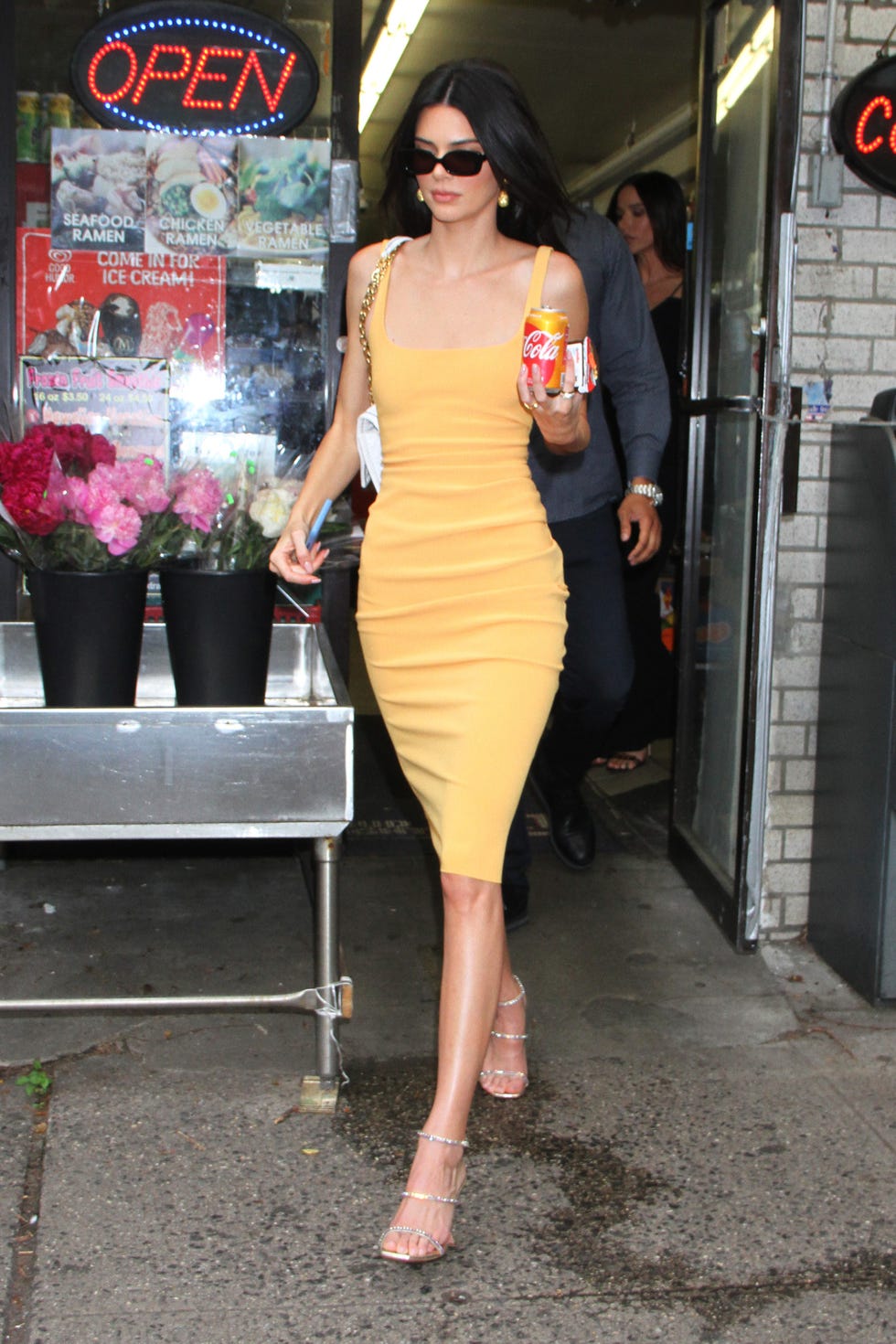 Like Kylie Jenner, you too can nail this amazing look with this slim fit yellow dress paired with a pair of classy black sunglasses. The yellow slim fit dress is from Bec & Bridge while Kendall paired the dress with a Velvet Canyon sunglass, you can get one or pair your dress with a similar black sunglass too. A silver strip sandal & mint blue bag could recreate the look with perfection.
4. Kendall Jenner's Red & Black plaid sports bra & pants with black boots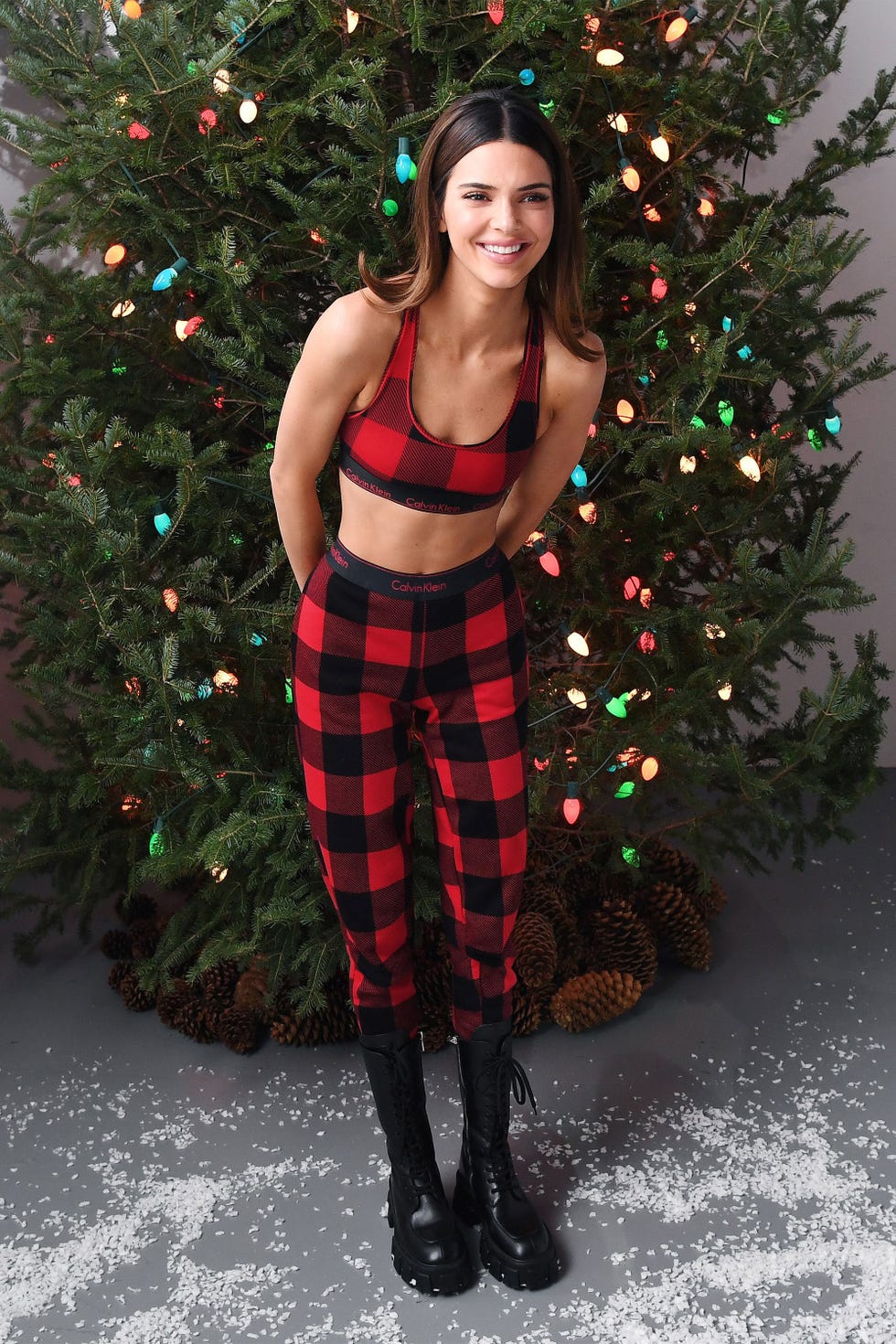 Perfect sportswear like Kendall Jenner's choice of a set of black & red checked sports bra & pants can be the best sportswear for Christmas. Kendall Jenner had paired this outfit with a pair of black boots giving a classy look. You can order this set of black & red plaid sports bra & pants straight from Calvin Klein along with the black combat boot.
5. Kendall Jenner's Teal blouse & stiletto mules
Kendall Jenner has killed the look with this outfit by pairing a white cropped tank top with ripped jeans & a portfolio shirt. You can replicate this very look for going to the airport or on a comfy road trip very easily. Get the free people cropped top from shoptiquet.com, the boyfriend jeans from hem.com & the shirt from express.com. Additionally, you may pair this outfit with a stiletto mule by samedelman.com & the Sak Hobo bag from dsw.com.
6. Kendall Jenner's Bodycon Dress And Longline Duster Look
The classy & savage look of Kendall Jenner in all black can be replicated by you! Kendall had paired this bodycon dress with long sleeve duster coat & a pair of sunglasses, astonishingly all in black. In contrast o this, the sneakers she wore with this outfit were all white. You can easily get the turtle neck dress of revolve Capulet with the Misguided long sleeve maxi duster coat. The sunglasses were of the aviator with Vans slip-on sneakers.
Through this article, we have brought to you some amazing looks of Kendall Jenner which you can recreate easily. Nail all the looks of Kendall Jenner right now and impress people in your surroundings.