TIPS FOR GORGEOUS AND GLEAMING LIPS
Plump lips, bigger lips, fuller lips have become the latest aesthetic fashion trend of women nowadays. Because your lips make your face more beautiful, it enhances the beauty of your face. The hydrating, moisturizing, and high-shine effects are the main feature of lip glaze. And lip glaze is the best alternative for fuller lips.
Fuller lips are now in fashion so women try for that. Somebody using injections or doctor treatment and surgery too, which are dammed expensive and risky. Lips glazes make women look more complex. There is a natural method of making lips fuller and bigger and women with fuller lips come out younger and glow up their entire face.
Know the differences – Sometimes lipstick with selective colors makes women more attractive and speaks a lot about your mood and personality.
Lipstick – comes in a solid traditional bullet type.
Lip glosses – come in a squeezable tube
Lip glazes – are similar to lip glosses except they are even sheerer. Only a tiny quantity is enough to cover the entire lip. A variety of skin tones can be adjustable with lip glaze shades. Also, provide a gorgeous and gleaming pout.
6 Lip Glazes Make Us Look More Complex
1. LAKMÉ – the brand which reconceived fashion internationally. Lakme's absolute plump and shine lip glaze is the best choice for women. Most important is that it is dermatologically approved which gives smooth and add moisturizing glossy shimmer to your lips. Which makes you center attention among all. It is very easy to apply and also very light. So go for Lakmé Absolute Plump & Shine lip gloss as early as possible
2. LIP GLAZE NUTRITION GLOSS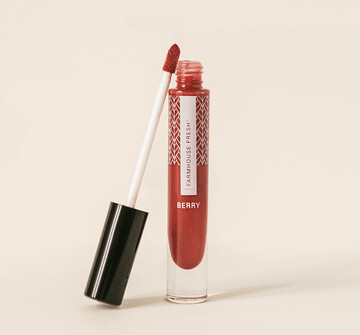 If you like soft lips with a natural and fresh color then try "LIP GLAZE NUTRITION GLOSS" it may be one of the fantastic formulas that furnish color and shine to the lips. And color descriptions are peach color, litchi color, and dragon fruit. 
3. FACE ATELIER – While hydrating and moisturizing it gives a high shine effect to your lips. It applies extreme shining and smooth glasslike effect. One of the good features of Face atelier lip glaze is a size that is 60% bigger than another lip glaze.
4. BUXOM FULL-ON PLUMPING LIP POLISH GLOSS – glitter, shimmer, and high shine are the qualities of this product with vitamins A and E benefits, it sounds good, means for healthy lips you can shift to buxom full-on plumping lip polish gloss. 
5. KJAER WEIS – certified organically, with beneficially ingredients like Vanilla Planifolia(for vitamin B) rosehip seed oil, sunflower seed oil, with semi-sheer warm red gloss. Go for it to change your mood.
6. ARMANI BEAUTY ECSTASY MIRROR LIP GLOSS – if you want to feel the smoothness on your lips. This lip gloss enhances high-shine lip gloss which hydrates lips up to 10 hours. So for long-lasting effect go for it.