body shaper
shapewear
shorts
Waist Trainer
2021 Black Friday Shapewear In Sculptshe
The Black Friday sale is when all the shops drop the prices of their products by almost 50% of their original cost. Many shoppers anticipate this event every year because they can buy things at much lower prices. It is a tradition that most countries follow when it comes to retailing!
Of course, you will also see shapewear prices go down a lot too. So if you're looking to collect some of the best body shaper, then this is the best time of the year to do so!
Here in Sculptshe, you will see many varieties of body shapers, from bodysuits, sleeved shapewear, and butt-lifting shapewear. They are regarded for their comfortability, durability, and high performance. So what are you waiting for now?
Booty Boosting Bodysuit
This booty boosting bodysuit slims your waist, hips, tights, and buttocks. Its fabric is so comfortable as a second skin as you will never want to take it off anymore. In addition, the butt-lifting effect creates a more natural round butt shape that is more pleasing in the eyes! You can wear it with jeans or a tight-fitting and bodycon dress for a curvier silhouette.
Lycra Curve Smoothing Bodysuit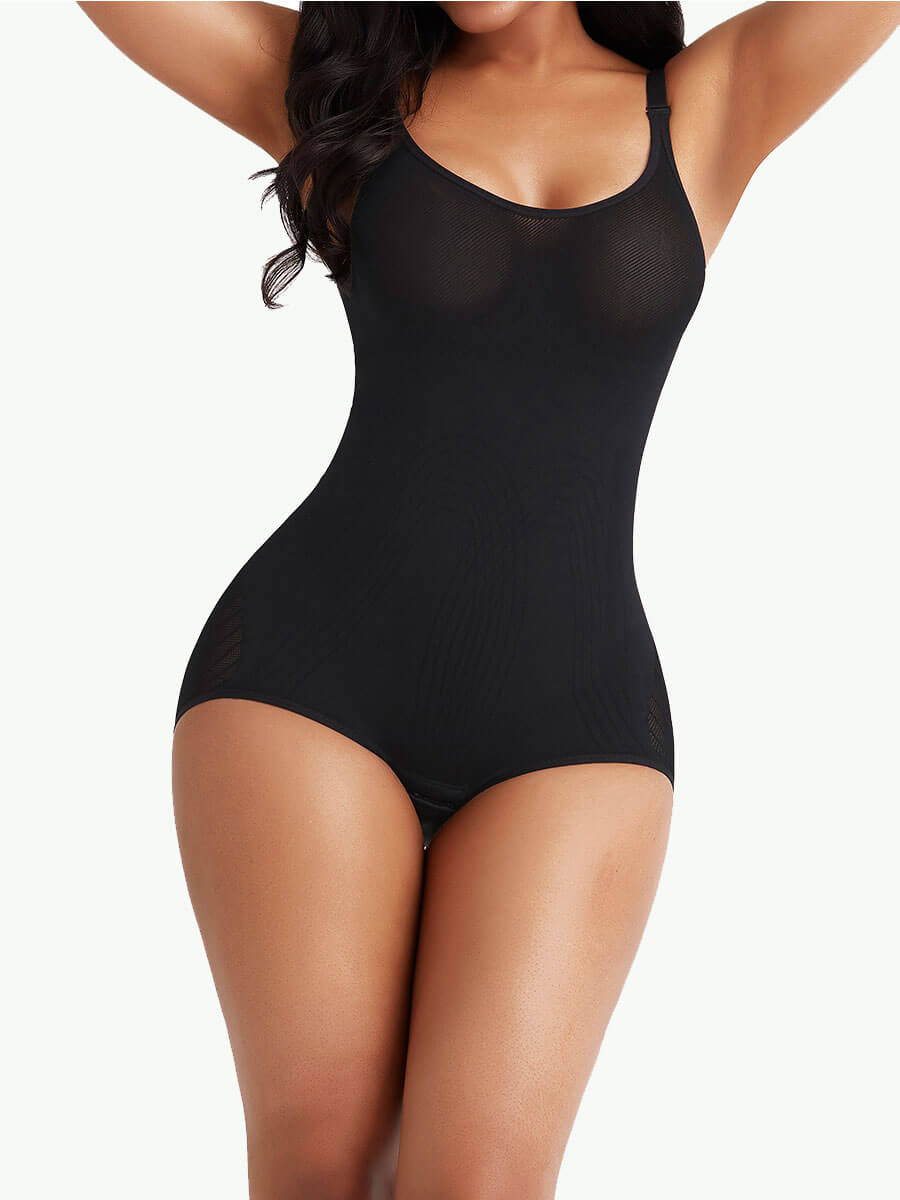 Are you getting annoyed with those bulges and unwanted fats that keep you from wearing your favorite dress and skirt? Not anymore, with the help of this lycra curve smoothing bodysuit that smooths all the areas of your body, creating an unmistakable silhouette in your dress. It also features an eye and hooks closure to the gusset for convenient bathroom breaks.
Shaping Bodysuit with Open-Bust
This bodysuit has an open bust that gives you the freedom to choose your bra that supports your breast and pushes it upward. Since you can select your bra, you can go with a bra that can make your breast more upright for a pleasing shape. In addition, the fabric is light and breathable, so you can comfortably wear it throughout the day.
All Day Slimming Bodysuit
A seamless bodysuit with almost invisible fabric under your dress will make anyone wonder how you'll get this hourglass shape in a day. It is an excellent addition to your closet, making you ready to go to any parties and events with a sexy body. In addition, you can wear it as casual wear and be part of your everyday clothing. In a way, its design helps in supporting and lifting your breast, butt, and hips.
Postpartum Recovery Bodysuit
Imagine how your waist and muscles there look like after major surgery? Yes, we know that shapewear can give you the best shape you want for any party, but wearing postpartum shapewear after surgery helps keep your muscles together to recuperate faster. Good thing that this full coverage postpartum bodysuit is a two-in-one action shapewear that slims your body and helps your muscles recover.
Aside from the great body figure that any shapewear can do, it is also essential to feel comfortable while wearing them. You need to know if your shapewear is comfortable to the skin or convenient while doing your bathroom breaks. But, of course, you don't want to get hustle in taking your entire shapewear off, just for the sake of going to the bathroom, right.
Underbust Bodysuit Shaper
Wearing this shapewear will keep you from feeling irritated as the fabric is soft with your skin. Although, of course, it has an open-crotch for better bathroom breaks, yet its cinching effect is the most noticeable. You can adjust the compression of this shapewear into your waist with the help of its eye and hooks closure. You can decide whether to look sleeker or not as much depending on your dress and preference.
Postsurgical Body Shaper
This shapewear has an open-crotch feature that will slims and reshape your whole body figure. It is designed to cover every portion of your body, not leaving any fats behind to be seen. It is perfect if you have troubles with your arm fats and tight shape as well. It doesn't solely focus on your waist but instead aims for a better overall appearance. You also remove its bra if you want to wear your own. Also, its lace hem is so chic that you'll love to see it from time to time!
Detachable Straps Body Shaper
It is clear that this shapewear is very convenient when using the toilet because of its open crotch, but its fabric that is invisible to your dress is applaudable. It makes this shapewear a perfect match for any outfit or clothing that you want to wear. You'll never think that maybe, some lines and curls will be visible over your dress while at the party. Well, it is imaginably shameful, right. The zipper lock at the front makes it easier for you to wear and take this shapewear off.
Tummy Control Thong Bodysuit
This shapewear is perfect for making all your curls and bugles go away in an instant. It has a v-neck and backless design that is perfect for your event gowns and dresses. In addition, it features an adjustable shoulder strap with hooks on the crotch for comfort breaks. You can also wear it by tucking it in together with your jeans as it is!
High-Waisted Lifting Shorts
A shaping shorts that cinch your waist for a better waistline with butt-lifting features for a nice butt curve. It has a cute lace hem for anti-slip and zipper closure at the front. You can wear it as it is at home or as casual shorts.
These are the top best black friday shapewear that you can buy at Sculptshe. Time to reestablish your shapewear collection now!