These Kate Spade Handbags Are Actually Cute
Handbags are one of the most essential yet stylish accessories that you can pair with almost all types of dresses. You can carry all the necessary items in a handbag while you are travelling to a place or going to your office. Also, cute handbags can even add a great statement to a regular outfit. Kate Spade, a New York based brand, manufactures some exceptionally beautiful handbags that will level up your look.
So, we have picked up exclusive Kate Spade handbags that will give you an overall cute appearance.
1. Disney x kate spade new york clarabelle & friends large tote
This pink tote handbag comes in a considerable size. Favourite Disney characters like Mickey, and Donald are inscribed on this handbag. Made of good-quality crossgrain leather, this handbag stands up to your expectation and suits well with casual attire. Some of its notable features include detachable wristlet pouch and dog-clip closure.
2. Remedy bikini dot small top-handle bag
This top handle bag with frame closure is perfect to pair with your party dress. You can also use the detachable or optional shoulder straps according to your will. There are 2 interior card slots to keep your valuable cards. This Italian Jacquard Fabric made bag has a metal spade to add that extra style quotient. The classic polka dots truly enhance the cuteness of this comfy handbag.
3. Disney x kate spade new york minnie mouse medium satchel
What more do you need than polka dots and a mickey mouse to make your bag look cute? This satchel by Kate Spade has a zip closure. You will find an interior slip and zipper pocket to keep those little essential things safe. Electronic gadgets like iPad or iPhone xmax perfectly fits in this handbag. You can also use the optional shoulder strap for convenient handling of the bag.
4. Remedy spade flower small top-handle bag
Made of Italian jacquard, this red-coloured flower spade handbag features a smooth leather trim for the ultimate look. The frame closure and matte lining add to the cute yet elegant appearance of this bag. The foil embossed logo and matee lining makes the bag's look attractive. You will get 3 interior pockets to keep your necessary items.
5. Yours truly 3d mailbox
The compact mailbox handbag by Kate Spade is made of fine Italian leather. It consists of a cross body with a two way zip around closure. The interior card slots and snap tab slip pocket create enough room for keeping your necessary things. You can also put on the optional crossbody strap whenever you wish. The faille lining and front design contribute to the cute look of the handbag.
6. Naomi watanabe x kate spade new york large tote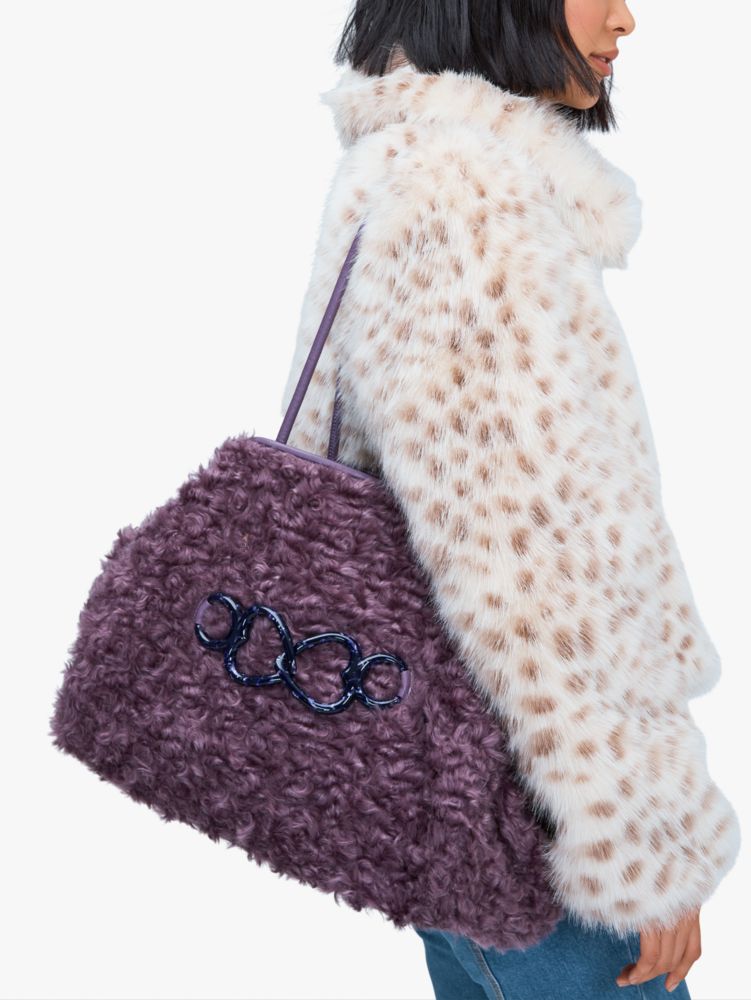 This handbag by Kate Spade made with faux fur is all that you need to make your appearance cuter. The detachable wristlet pouch, tie closure and interior snap tab slip pocket enhance the convenience of using this bag. Your regular electronic gadgets like 13" laptop, iPad and iPhone xs max will easily fit into this cute purple handbag.
No matter whether you are traveling, going to a party or office, a handbag of Kate Spade can be your cute constant companion. So, choose the best one for you from our list of recommended cite handbags and make your way with style.