Best Looks Ideas Spring & Summer2021
So, the spring & summer 2021 is near and you need to restyle your wardrobe. Are you confused about the outfits that will go great in the coming time? We have got you covered by presenting you with some of the best looks and ideas that you definitely need to go out in style.
Double Breasted Jackets
Double Breasted jackets have been in trend since quite some time and will continue to be in trend for a long time to come. You can easily get a marvelous look by pairing it with parallel trousers, plain tee, sneakers and a classy handbag. Along with that, you can also wear golden or silver pendants available in different shapes and sizes. You can also style the look by pairing it with shorts and a regular scarf to give it a 90s touch.
Beach Bag
Since summer is near, you do not want to miss out on the classic beach bag collection. Pairing the cute chanel shopping beach bag with a classic boho beach look is a great option. Apart from that, you can also pair a bikini with denim shorts since it is one of the most loved summer looks in 2021.
High Waisted Pants
There is nothing better than having full confidence in how you look like in your workplace. These wonderful high-waisted pants with an extended waistband will go perfect with a blazer and casual heels. It is completely comfortable to wear, thereby ensuring you have a perfect work day with no hurdles at all. Also, you can pair up these pants with ankle boots to have a classic look. A collared rib top is all that you need and you have the perfect work outfit for this summer 2021.
Long Denim Shirt Jacket
A loose fit long denim shirt jacket is a perfect choice to rock your day in style. The color of this shirt jacket by h&m is unique and different from the regular colors styled on a daily basis. You can pair it up with loose jeans of the same color and white shoes. Apart from that, you can also pair this amazing shirt jacket with bootcut jeans.
Ribbed Look
A complete ribbed look consisting of ribbed knit top and trousers or skirt can be a great option. Apart from that, you can also wear a complete straight ribbed dress mentioned below with trendy sneakers. Style this ribbed dress along with a casual shoulder bag and you are good to go. If you want to add to the look then you can wear a two-strand necklace and little earpieces.
Graphic Print T-Shirt Dress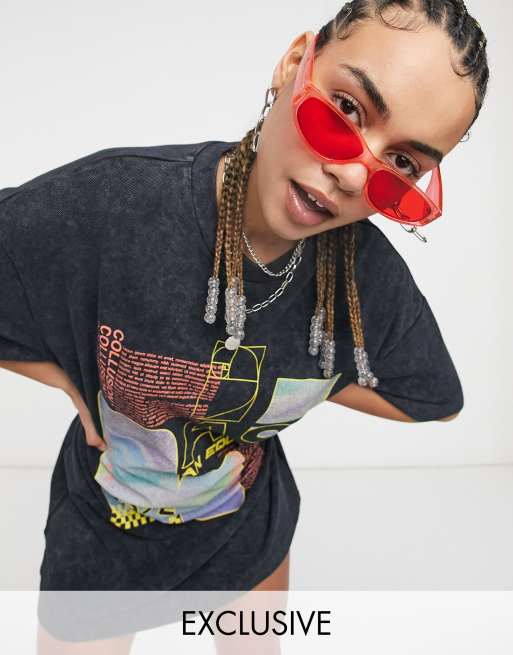 T-shirt dresses are highly comfortable and a go-to option for most of the women out there. All that you need to do is buy a classic graphic print t-shirt dress like the one below by ASOS and pair it with classic shoes or sneakers and you are good to go. Such graphic t-shirt dresses often give a funky look with dreadlocks and goggles.
The FInal Verdict
These were some of the best spring/summer looks of 2021 that you must try. Pairing these amazing pieces of clothing with different handbags and shoes can be a great pastime activity to indulge yourself in. go ahead and explore the vast collection and varied styles. In the end, it's all about stacking your wardrobe in style.