5 Plus Size Dress Style Hit Every Single Summer
 Finding the perfect choice for your plus size summer collection might be a bit challenging. However, with the right guidelines in mind, you can still stay hot and sexy all summer long. For example, instead of going for synthetic fabrics like polyester, look out for natural fabrics like cotton and linen. Natural fabrics are more breathable and are perfect for your skin for the weather condition, which makes you sweat less. And even when you do, natural fabrics would not stick to your body. For a variety of the best dresses you should be caught in this summer, check these out:
Shein Plus Keyhole Back Surplice Wrap High Low Dress
This high low dress is everything you need and more. It is a perfect way to show some skin without being embarrassed during summer, when it gets all windy. The length of the back keeps you from flashing the entire world, while the front high cut makes you show some legs. Also, it is a wrap dress that is most suitable for persons with fuller upper bodies and broad shoulders. The neckline gives a perfect illusion of a longer chest than broad shoulders, and that is just what you need. Apart from these, this beauty is made of rayon, which is one of your best bets during summer. It is definitely a must have.
Plus Floral Print Halter Belted Dress
This amazing Boho belted maxi dress is definitely a must- have this summer. It perfectly accentuates the arms, shoulders and waistline, while gracefully flattering the lower parts of your body. The halter neckline is perfect for the weather, as it lets your underarms breathe without worrying about chafing or obvious sweat lines. This leaves your underarms fresh and sexy all day long.
Plus Ruched Surplice Cami Dress
This dress does not only make you look slimmer, (going by the dark color rule), it definitely highlights all your assets in the right proportion. You can flaunt your slim shoulders, as well as you bust and your hot legs with all confidence, and this shifts the focus from your tummy area. With this in your wardrobe, you sure would be killin' it at that dinner you have planned out.
Plus Broderie Bodice Ruffle Hem Dress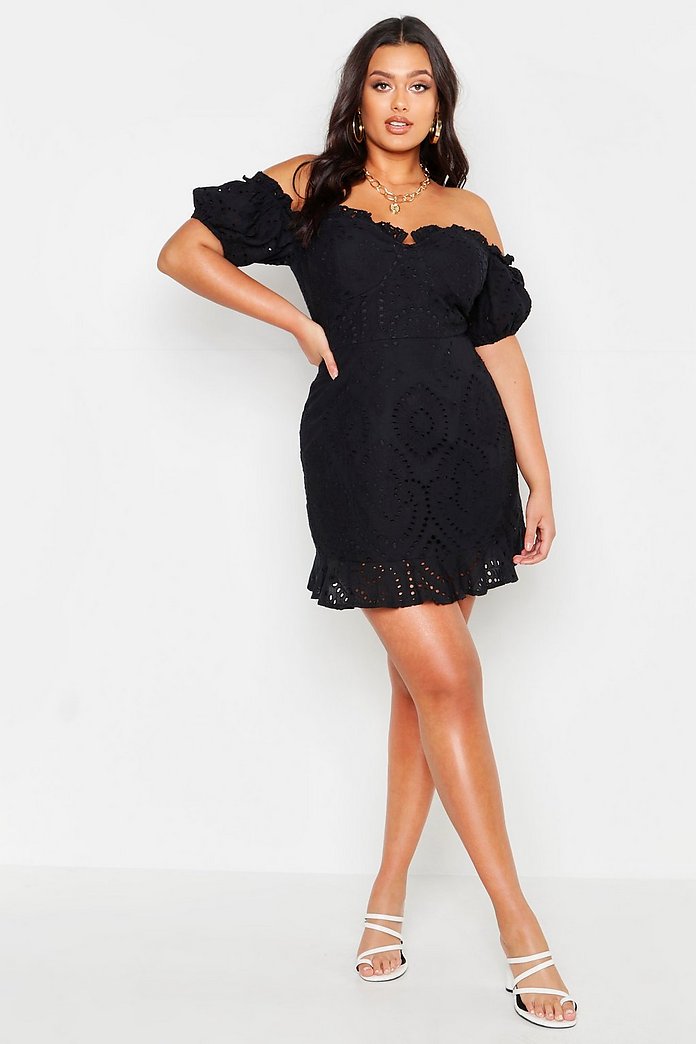 This dress is certainly a way to look casual, yet chic and sexy. Very suitable for body figures with slimmer shoulders, it accentuates and highlights the right curves and skin. Made of cotton, this skin friendly dress leaves you less sweaty all through the day. This is definitely worth going for.
Plus Oblique Shoulder Striped Curved Hem Belted Dress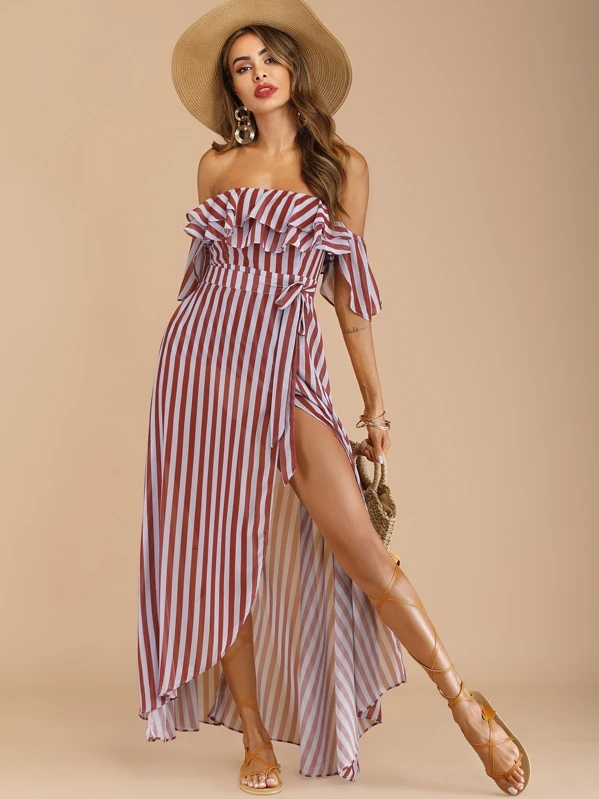 Just like every other staple piece, shirt dresses also do not go out of style. If you want just a bit of skin exposure, then this is for you. The belt definitely does a good job of highlighting your waist line and making it the point of focus. Fabric has no stretch so it gives a firm fit on you. This is a perfect way to look casual and hot.