Dresses
Fashion
Trendy Style
5 Best of Slip Dresses for Summer
There was a time when people heard about slip dresses; they considered those dresses as "bedroom-only" dresses. But with time, such dresses have received immense popularity among women. When popular people like Kate Moss took the dress style from the bedroom, the red carpet, that changed everyone's mentality. Made of the delicate and silk garment, slip dresses look just awesome, and for summer, a slip dress can be a perfect option to get maximum comfort. Now, let's have a look top 5 slip dresses that you can buy for summer and look super stylish too.
Lingerie slip dress with laces
Well, not all prefer to wear lingerie for a day. But when you see the lingerie dress of Dolce & Gabbana, you will feel like trying it our now. Fulfill that Sicilian widow fantasy with this dress, turning heads of men. They can't stop themselves from staring at you. Want to have a more decent look with this? A stylish cardigan or a coat will get the work done. This summer, this can be a perfect slip dress for you. Go for it now.
Cuyana silk slip dress
You will love this slip dress for its maximum feminine details. Made of high-quality material, this slip dress will offer your body a sufficient level of comfort during summer. A well-designed back panel and the subtle slit near the leg portion, you will find this dress more versatile. For a formal occasion, you can use it with a pair of minimalist heels or a slide sandal. The choice is yours. This dress is guaranteed to be your wardrobe mainstay for summer.
Satin seamed v-neck slip dress
You will definitely fall in love with this slip dress for its super comfortable flow fit, a perfect V-neck design, and the beautiful asymmetrical front seam. All these add a sufficient level of sexy vibe to this dress. Feel confident while roaming around with this dress. You can combine the dress with a pair of heels or with sneakers; the choice is yours. Go for any color you want. It may look simple yet super sexy.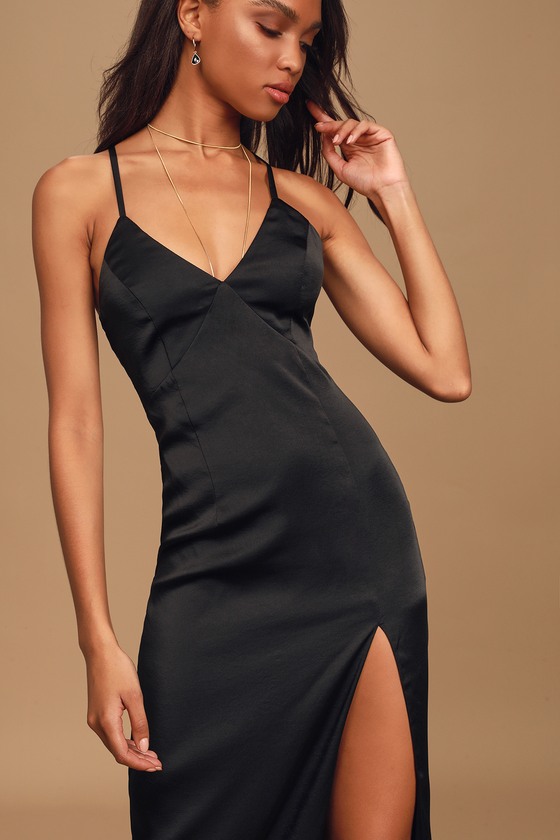 Reformation crimini slip dress
Why should you go for this one? Well, just look at the dress's thigh-high slit. It looks breezy and sexy. To make you feel comfortable to wear, this slip dress comes with adjustable straps, and you can get unlimited patterns and colors. Give it a try.
Squareneck slip dress
The shiny silk comfortable material and the unique square neckline, the combination is great. This slip dress is an ideal outfit for formal occasions.  During the day time, just wear it with a white tee.